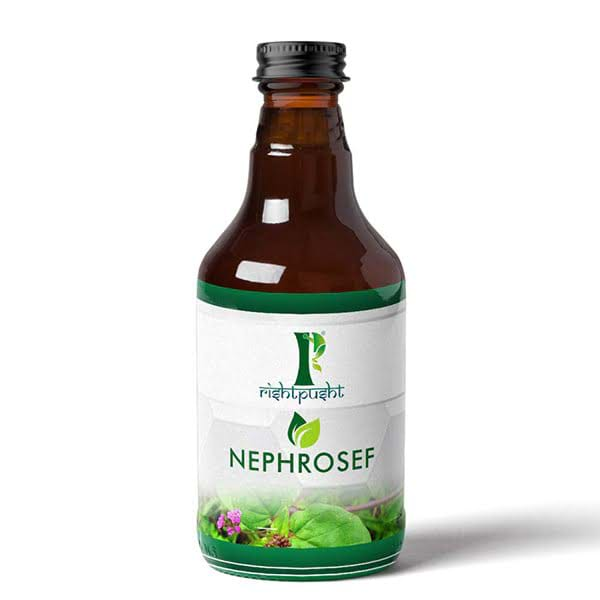 Nephrosef
Maintains healthy function of kidney.
Balances all the Doshas viz Vata, Pitta and Kapha(bio-elements).
Supports the natural metabolism of the urinary system.
Wishlist
Nephrosef is a combination of rejuvenating herbs for the kidneys and adrenals which contain the extract of time-tested herbs and purifies the body by cleansing toxins from the veins, which strengthens and enhances the functionality of Kidney, Liver & Heart. The formulation is based on 5000 years old Ayurvedic medical science. This supports the functioning of healthy kidney along with a healthy urinary flow. It naturally promotes the flushing out of harmful accumulated toxins and kidney waste.

Common Usage: Supports healthy urinary function and helps in removal of toxins from the urinary system. Useful in all kinds of diseases of Kidney and liver like Jaundice, Kidney, heart or Gallbladder stone, abdomen swelling or swelling in any part of the body.

Dosage: 20 to 40 ml in half a cup of lukewarm water (once or twice a day) or as directed by your health care provider.

Dietary Supplement Facts:
Serving size: 5ml in 1tsf

Servings per container: 450ml

Each tablet contains: Gomutra Ark, Punarnava Root, Makoy Seeds "sarirampunnarbamkarotiitipunnarva"
Free from gluten, soy, wheat, shellfish, preservatives, colors, artificial ingredients, any additive, artificial binders, Malt dextrin, Talcum powder, filler or any other material except the herbs in tablet.
This dietary supplement does not contain animal products and is suitable for vegetarians and vegans.
Good product at reasonable price and prompt delivery.It definately helps. Must try
roshani
- December 23, 2020
Ordered for my dad and aunt. They got desired results. So I recommend this product.
Aakash
- October 16, 2020
I was suffering from kidney problem for few months. I tried so many medicines but no results. This medicine was recommended by a friend. I tried this as any previous medicine but I am amazed with its effectiveness. I would highly recommend this medicine. Thank you for this 
Atul sharma
- April 17, 2020